Camping with us this year? here is everything you need to know.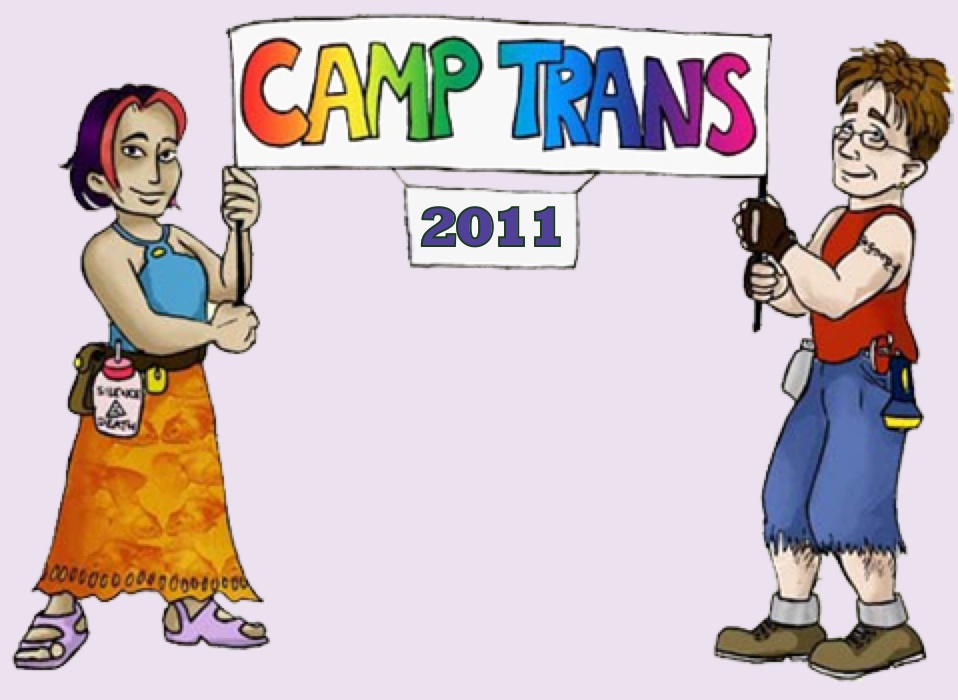 Information About 2011 Workshops and Activities!
Dates
This year, the protest and festival are July 24-31. Throughout the course of the week, Camp Trans grows from a couple dozen core organizers to 100+ campers and visitors. Many people understandably cannot attend for the whole week but arrive on Thursday, Friday, or Saturday when many of the cultural activities are scheduled. However, coming earlier will allow you to be more involved in various activities such as participating in workshops, and planning actions (see below for a tentative schedule for the week). We also find that those who arrive earlier tend to participate more in camp culture and logistics and are able to bond more with a smaller group of campers. If you really want to be a star, plan to arrive a day early on July 23rd to help us build structures, or plan to leave a day late on August 1st to help tear down.
Travel and Directions
Those who need a ride to CT and those who might like a little help with gas money should visit the Rideboard. If you choose to fly, Grand Rapids is the closest major airport. We can arrange to have someone pick you up at the airport so long as you make arrangements with us in advance -- let us know what day and time you'll be arriving so we can coordinate trips into town.
To ensure the safety of CT and MWMF attendees, we do not post directions to the site on the web. Please email [email protected] for directions and a detailed map, or find a friend who knows how to get there.
Who is welcome
Camp Trans is open to everyone, regardless of gender or identity. There is no fee to camp but we do ask those who can afford it to donate $10-40 to pay for the cost of food, portapotty rentals, supplies, etc.
Amenities
CT offers camping conditions with a few amenities. We provide port-a-potties for you to do your business, including one that is wheelchair accessible. Vegan food is served twice daily at no cost. Volunteer medics are available onsite, and there is a medic tent that is stocked with basic medical supplies and safer-sex supplies, although we encourage you to bring whatever supplies you will need. Please remember to bring any hormones you might need, too -- unfortunately we can't dispense prescriptions meds.
There is no running water onsite, though we provide water for drinking and a small pump shower for bathing. The only structures are large open-air tents. The Michigan weather can range from very hot in the afternoons to rainy and chilly at night, so come prepared for both warm and cold weather. The community space is centered around a large campfire that is maintained each evening.
The nearest grocery store/laundromat/pay phone is in the town of Hart, which is a 30 minute drive down rural roads. Most cell phones do not get reception at Camp Trans -- you will have to drive in to town to make a call. There are usually a few people making trips into town each day, so it's not a problem to hitch a ride with someone who has a car if you need to buy personal items or take a break from the woods.
Workshifts
Camp Trans is a community-run space. We expect that all campers who are physically able to do so will participate in workshifts, take part in workshops. It is also the responsibility of each camper to help create a safe, welcoming and empowering space for everyone.
Workshifts include helping to prepare meals, driving into town to get water and firewood, keeping the communal space clean and trash-free, staffing the welcome center during the day and overnight, and erecting structures.
Etiquette
Camp Trans takes place on National Forest land. Each year we secure a permit to use the space, and it is not uncommon for a forest ranger to drive by and check in with us every few days. Because it is public land, and for the comfort of others, we ask that you follow a few rules.
We ask that you keep nudity and sexual activity out of the community areas.
Alcohol may only be consumed at your campsite or off in the woods.
We also ask that you not use strongly scented perfumes, colognes, shampoos, or other products that might affect those with chemical sensitivities. Cigarette smoke contains chemicals, too, and people with asthma or respiratory illnesses are highly sensitive to secondhand smoke. Please be courteous and ask those around you before smoking, and take a few steps back from the group.
Accessibility
We strive to make Camp Trans as accessible as possible by providing drive-in camping spaces close to the community area, a nearby wheelchair-accessible port-a-potty, and a generator that can charge motorized chairs overnight. We may be able to make other accomodations as needed. Please be aware that CT takes place in a grassy, bumpy field with a very slight grade that can be difficult to navigate without an assistant.
What to bring
Children -- We love having children running around camp and will do our best to meet your needs as a parent! If you are bringing kids, please contact us at

[email protected]

to arrange to join the volunteer childcare pool in advance while you protest. Please remember to bring everything they will need, including age-appropriate games and activities, diapers, wipes, special food, bottles, formula, as these things may be limited at camp and in town.
Sunblock. August in Michigan can be very hot and sunny! A hat is also helpful for sun and ticks.

A tent and sleeping gear. Some may choose to sleep in vehicles or small campers. If you choose to bring a camper, we will direct you to a spot in long-term parking where you may be somewhat boxed in for a while.
Towels (for bathing & swimming in the nearby lake).
Any medication you may need. Please bring extra and keep it in a waterproof container.
Clothes that accomodate hot and cold, rain and shine. Summers in the midwest could mean beating sun, sudden thunderstorms, or inexplicable cold at night. Mornings and evenings are often quite chilly so a jacket and long pants are essential. A good pair of boots never disappoints.

Money. While we are in the wilderness, you may find yourself in need of something from town.

Food. While we provide basic vegan fare daily, it does not include camping treats like s'mores, alcohol, meat, fish, etc. If you have a special diet, it's best to supply/supplement it yourself.

Camping gear you will really appreciate having: flashlights, lanterns, nalgene bottles, folding chairs, pocket knives, a plastic bowl and utensils. We recommend bringing a small battery-powered LED headlamp, which will save you a lot of frustration when you're stumbling through the dark woods looking for your tent.

Bring a rain tarp. Bring a rain tarp. Bring a rain tarp. Even if your tent has its own rain fly, you will want to string up a tarp overhead -- you'll appreciate having a large, dry area to sit outside and air out your clothes.

Fun items! Banjos, ukeleles, frisbees, balls, cards, art supplies...

We do not recommend bringing expensive or fragile items like computers. Cell phones do not get reception at CT, but bring them in case you need to make a call in town (don't forget a car charger!).

Put your name on everything. While we appreciate the many donations we receive each year, we suspect you'd prefer to hang on to that folding chair or flashlight.
Can I bring my dog?
We used to say no, but part of the problem with saying no to dogs is that people bring them anyway, and this results in unregulated animals! As such, here's the deal. If you bring a dog, it must be on a leash at all times. You are responsible for cleaning up all the leavings of your animal, and you are further responsible to keep it from engaging in any dangerous activity with other dogs in the space. Finally, please understand that many people fear dogs, and as such make sure that the people your dog desire to meet desire to meet your dog. If you have a choice, leave your dog at home, but we understand for many people that is not going to be an option. So, as long as you're a responsible pet owner, you can bring Fido. Just, respect the needs of others, if we're going to be respecting the needs of you as a pet owner.
Your first time at CT
The last leg of your trip through rural Michigan will take you down a dusty dirt road through the woods. After a few miles, you'll pass the entrance gate to the Michigan Womyn's Music Festival; then a quarter mile farther and you'll come to a large, square clearing -- Camp Trans!
As you enter the site, you will be greeted by the folks at the Welcome Center. They will give you an introduction to CT and provide you with materials that explain camp etiquette and the schedule for the week. If you are staying for more than the day, they will direct you to long-term parking. If you are just visiting, they will direct you to short-term parking.
Once there, you should decide where to pitch your tent. The camping area is located in the fringe of woods at the edge of the clearing. We divide the camping area into several sections depending on your preference for quiet space and substance-free surroundings.
On Friday and Saturday (the days with the largest fest attendance), CT campers and festies alike fill the camp for our performance night, and our always-popular dance parties.
The middle of the week is filled with workshops, caucuses, trips to the lake, and social activities. Throughout the week we'll have trans activists from around the country presenting workshops designed to give you the tools to organize around issues that affect trans people in your own community -- health care, discrimination, employment, HIV, lower-income resources. This is the "meat" (or textured soy protein, if you like) of CT and is not to be missed!
In addition to performances and workshops, CT has much to offer our campers. We believe that Camp Trans is the only place on the planet that has a majority of trans people in one place 24/7 for a whole week. This makes for an empowering, supportive, and amazing culture to surround yourself in! But we know that sometimes it can be overwhelming or intimidating, too. If you need a friendly ear, you can always find a camper advocate, whose job it is to listen to campers' concerns, mediate conflicts, or just talk one-on-one.
One thing about being at CT that is liberating (and confusing at first) is the lack of assumptions people choose to make (particularly about gender identification, but about all sorts of other things, too). Being in a majority trans/genderqueer environment 24 hours a day for many days is a first for many people. It makes for a unique and amazing culture. We ask that you refer to people how they wish to be referred to. We also ask that you ask for permission when engaging in activities or discussions with folks near you. Don't assume everyone is OK with alcohol, smoking, sexually explicit talk, hugging, taking pictures, etc. Asking is always the respectful thing to do.